I was born and raised in Florianópolis and have always enjoyed drawing, writing, music ... The proximity to the sea made me fall in love with surfing and I think the sea helped me understand a lot of what I am and like.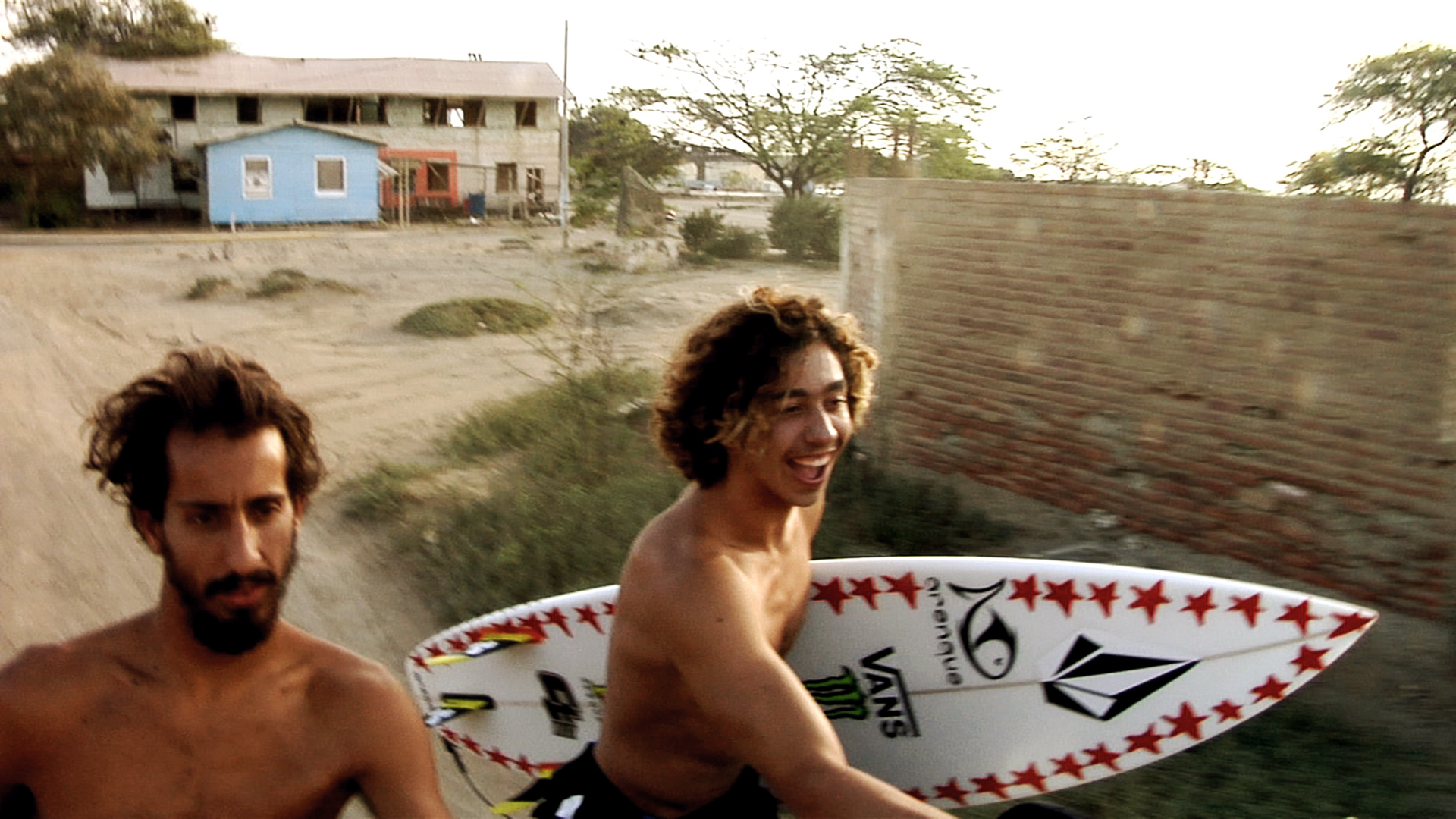 How did you start in the world of audiovisual?

When I was little I dreamed of creating cartoons. As a teenager I no longer had a specific desire, I had recently started to enjoy editing videos of me and my friends skateboarding and surfing, and it evolved to me grabbing parts of my favorite surfing films and editing them in my own way. It was a fun hobby, but not for a second did I think of filming or turning it into a profession.

On my entrance exam for Visual Arts I scored a 1 out of 20 on the drawing section of the test, it was quite ironic because I loved (and love) drawing. At the same time a french friend who had an interior and exterior decoration company in Bordeaux invited me to work with him for two months in the construction part of the projects. When the job was over, I researched Hossegor, a nearby city, because I knew it was by the water and I wanted to surf. I asked Pablo Aguiar - whom I admired and sometimes wrote - if he knew anyone there based on the simple fact that he posted a photo of the Eiffel tower on Orkut (Brazilian Myspace… kind of)

He spoke of Pietro França, who welcomed me with open arms and changed my life in a very beautiful way: introducing me to a camera for the first time. From then on, everything happened without me realizing it, and just like that, I worked with films.


You were always very connected to the world of surfing, what led you to this branch of production? What has changed since you started?

I think what made me feel good in this universe was the possibility of expressing feelings.

Sometimes for me, it's difficult to describe ideas, feelings, beliefs and so many other things with words... and I discovered in the films a way to do that , a way of sharing in a subjective way, giving space for the receiver to interpret and digest in his own way. That was magical for me. I wanted to talk about the world and I used surfing as a platform for that, for what surfing meant to me and my worldview and human-nature coexistence.

What has changed is the interest of human beings in absorbing images, because there's so many available options. It is interesting to see as things continue to change.




You've already carried out projects with countless people and companies, your most recent one was different, snowboarding, with Nico. How did the idea for this project come about? What were the challenges? How was it to produce with Nico and all of his 8 year old energy?

I was going to Italy to film a gastronomy project. When the trip was confirmed, I immediately wrote to my friend Vernon, who lives part of his time in Switzerland and part of it on a boat around the world - and if he was there, I would stay a little longer visit him, it was only a few hours away if I took the train.

He was there and said he was going to photograph a snowboarder in Italy and told me to go along. The snowboarder was Nico and when I arrived, with my camera and equipment, we decided that I would film this visit.

During my days at Nico's house, we talked about a lot of things, but obviously I focused on the fact that he is, you know, still a 8 year old kid. And that's the message we wanted to share in the film. He's a character as you can see in the images and I really wanted to make room for that.

It was a great time, his energy is insane. In order to record audio with him, we had to hold him still, because he wouldn't stop moving, not even for a second and when he moved he made noise, ruining the audio. It was really funny.



Being always very connected to nature in your projects, how do you see the world of audiovisual in the future, after all the protests and the pandemic? What are the values that us as creatives should transmit to our audience?

It's a good question ... with two answers:

About the pandemic, it's difficult to measure the impacts that it will have in the future, as of right now they are already huge, and there's no doubt that changes in our work space will happen.

As for the protests , the audiovisual community needs to retract and reformulate very urgently.

Films, soap operas, clips, advertisements ... everything has a much greater influence on society than we think, cinema played a major role in the normalization of racism, in the praising of whites as ideal and representing black people as vandals, criminals and intellectually inferior - and even demons in times of segregation. The '' deconstruction '' that we see in recent times has been taking place little by little and only by social pressure ...

Even in this movement of inclusion, the role of blacks is placed as a supporting role or when they are protagonists it is to address issues such as slavery and segregation, to fit into the white imagination, and that is the root of the problem: The audiovisual industry is dominated by whites, that's what has to change. The audiovisual has a transforming power that, monopolized, not only steals the voice of many, but distorts reality.

This moment is very important for all white people in the audiovisual to do the same thing that should be done in life itself: study, listen and finally understand that the spotlight given to us is not ours, and it is not a favor to let go of it, it is our duty. It is time to let go and listen to those who suffer, and how we can we stop causing harm, and actually start helping.

Seeing works by directors like Melina Matsoukas, Jordan Peele, Spike Lee and so many other who have managed to create their arts, we see how vital and inspiring it is for those who are oppressed. Art frees us. And it has to be for everyone. Who knows, maybe we are finally approaching this moment…

Thank you Loïc for giving us a glimpse of your vision, what you create is so pure and made with so much passion, it is truly visible in all your work.